| | | |
| --- | --- | --- |
| | Chapter 17: Aldehydes and Ketones. Nucleophilic Addition to C=O | |
Hydride Reductions of Aldehydes and Ketones
(review of Chapter 15)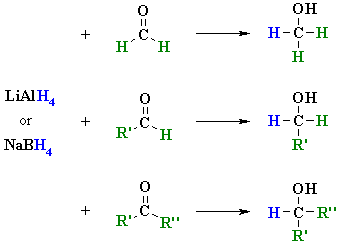 Reactions usually in Et2O or THF followed by H3O+ work-ups
Reaction type: Nucleophilic Addition
Summary
Aldehydes and ketones are most readily reduced with hydride reagents.
The reducing agents LiAlH4 and NaBH4 act as a source of 4 x H- (hydride ion).
Overall 2 H atoms are added across the C=O to give H-C-O-H.
Hydride reacts with the carbonyl group, C=O, in aldehydes or ketones to give alcohols.
The substituents on the carbonyl dictate the nature of the product alcohol.
Reduction of methanal (formaldehyde) gives methanol.
Reduction of other aldehydes gives primary alcohols.
Reduction of ketones gives secondary alcohols.
The acidic work-up converts an intermediate metal alkoxide salt into the desired alcohol via a simple acid base reaction.
Related Reactions
NUCLEOPHILIC ADDITION OF LiAlH4 TO AN ALDEHYDE


Step 1:
The nucleophilic H in the hydride reagent adds to the electrophilic C in the polar carbonyl group in the aldehyde, electrons from the C=O move to the O creating an intermediate metal alkoxide complex.
(note that in principle all 4 of the H atoms can react)

Step 2:
This is the work-up step, a simple acid/base reaction. Protonation of the alkoxide oxygen creates the primary alcohol product from the intermediate complex.
---