| | | |
| --- | --- | --- |
| | Chapter 2 : Alkanes | |
Alkanes
Simplest organic molecules with only C and H atoms.
Contain only C-C and C-H σ bonds
Commercially important as fuels and oils.
Summary:
Functional group suffix = -ane
Functional group prefix = alkyl-
e.g. CH3CH3 = ethane
e.g. CH3CH2- = ethyl
More details on alkane nomenclature?
Physical Properties:
The low polarity of all the bonds in alkanes means that the only intermolecular forces between molecules of alkanes are the very weak induced dipole - induced dipole forces. These forces are easily overcome. As a result, in comparison with other functional groups, alkanes tend to have low melting and boiling points and very low solubility in polar solvents such as water (remember "oil and water don't mix" and the adage "like dissolves like").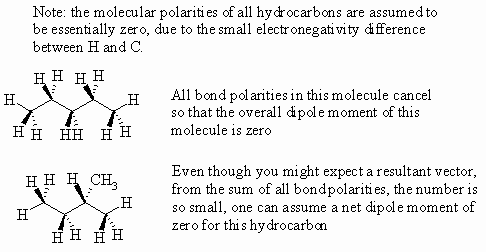 Structure:
Consist of only sp3 hybridised C and H atoms connected by σ bonds.
C-H σ bond is formed by the interaction of Csp3-H1s orbitals.
C-C σ bond is formed by the interaction of Csp3-Csp3 orbitals.
Alkanes have a generic formula of CnH2n+2 (a relationship that also defines the maximum number of hydrogen atoms that can be present for a given number of C atoms).
Structures of the C1 to C4 straight chain alkanes are shown below in a variety of representations (wedge-hash, ball and stick, spacefilling)
As the number of C atoms increases then other isomeric structures are possible.

methane
CH4
(b.pt. = -160oC)



ethane
C2H6
(b.pt. = -89oC)



propane
C3H8
(b.pt. = -42oC)



butane
C4H10
(b.pt. = -0.4oC)


More branched alkanes are more stable that linear alkanes, e.g. 2-methylpropane is more stable than n-butane.
Reactivity:
Since C and H atoms have very similar electronegativities, so all the bonds in alkanes (C-C and C-H) are non-polar.
As a result, alkanes are not particularly reactive as functional groups go.
Infact, it is often convenient to regard the hydrocarbon framework of a molecule as an unreactive support for the more reactive functional groups.
Want to try a few questions about alkanes ?

---