| | | |
| --- | --- | --- |
| | Chapter 27: Amino Acids, Peptides and Proteins | |
Terminology and Conventions for Peptides and Proteins
Amines, -NH2 can react with carboxylic acids, RCO2H to form amides, RCONH2 (review ?)
Proteins are polymers of amino acids, linked by amide bonds i.e. proteins are just polyamides.
Peptides are "short" proteins.
The amide bonds in peptides and proteins are also known as peptide bonds.
A dipeptide has two amino acid units, e.g. Ala-Gly (AG), a tripeptide three amino acid units e.g. Val-Leu-Ala (VLA), and so on...
The precise order of the amino acids in the peptide is the amino acid sequence.
Peptides are named according to their amino acid sequence.
By convention, the name is written so that the higher priority carboxyl group is to the right and the amino end to the left.
Note this "agrees" with the ideas of nomenclature where the higher priority group is used at the "right hand end" of the name

e.g. 2-aminoethanoic acid, H2NCH2CO2H
The carboxyl group end is referred to as the C terminus.
The amino group end is referred to as the N terminus.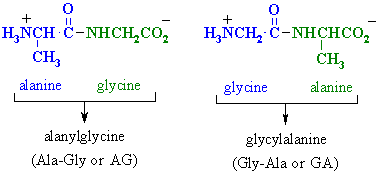 QUESTIONS
| | | |
| --- | --- | --- |
| | Can you think of an example of a simple non-protein polyamide ? | ANSWER |
| | Is the reaction of an amine with a carboxylic acid a good way of making amides ? | ANSWER |
---